Hills District Tennis Association
HILLS DISTRICT TENNIS ASSOCIATION
Club Social Tennis is held every Thursday evening from 7pm until 10pm at our Dural Tennis Centre (44 Quarry Rd, Dural) and every Sunday afternoon from 3:00pm until 6:00pm at the upper courts of our Castle Hill Centre (located in Fred Caterson Reserve). Our Club Social caters to players who can't commit to a weekly competition or just want some extra hitting practice in a friendly, non-competitive environment.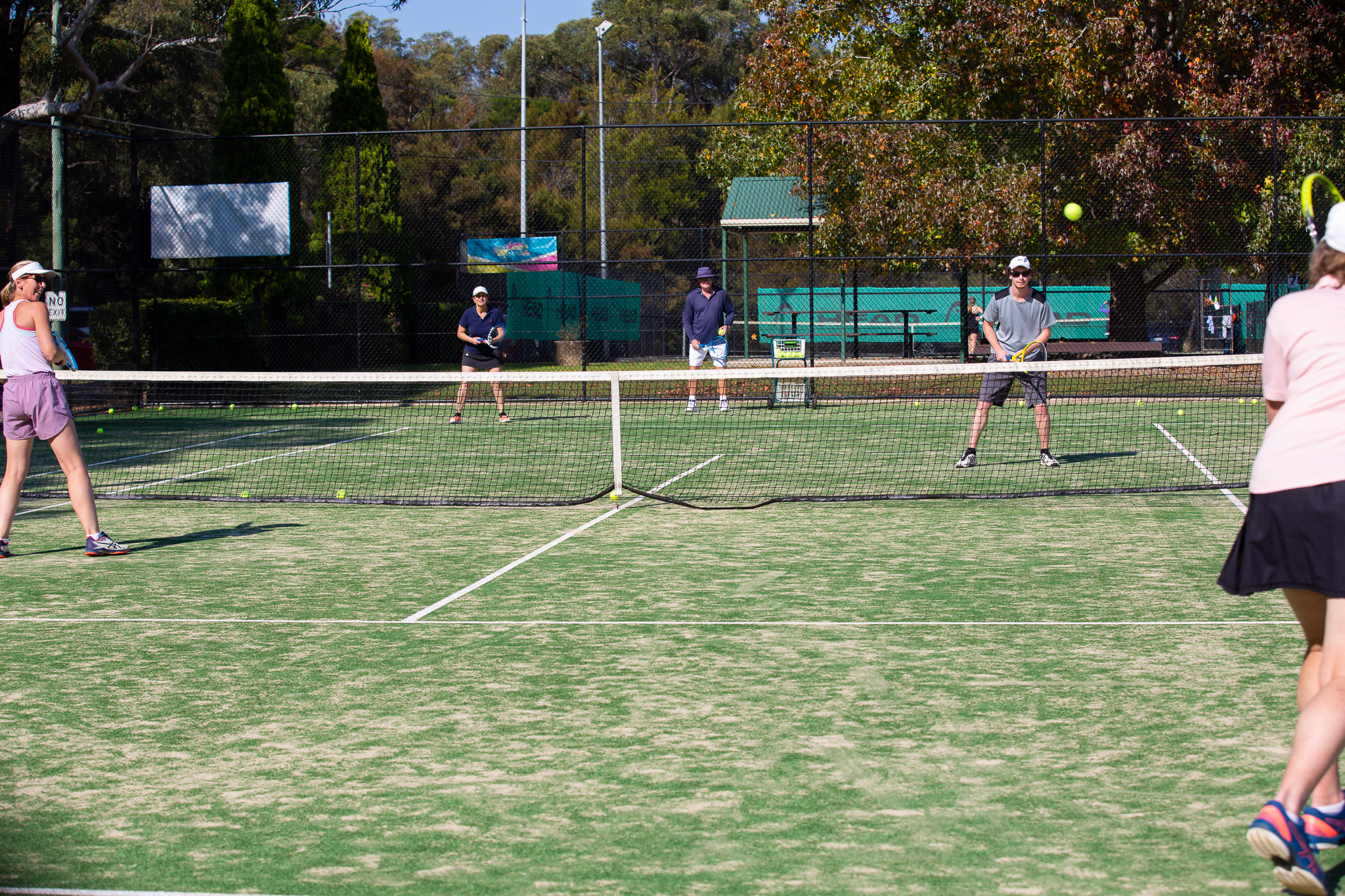 Register for the Social...
In order to join the Thursday Night or Sunday Afternoon Social Tennis groups, experience and a familiarity with tennis is required. For players who are beginners or who have not played in a long time, it is recommended that a few lessons with a qualified coach are taken prior to joining. This is to ensure the social player experience is worthwhile and enjoyable for all players.
Our friendly social coordinator, Lisa is always on hand to organise the player pairings for each doubles set. We organise 8 game sets, loosely based on standard, to ensure everyone gets a good hit. We also try to mix it up so you get to know as many of your fellow club members as possible. It is all about playing good tennis in good company.
Our club social is proving very popular with more than 30 players each week. A heavy demand for social tennis in good weather can cause waiting time between sets. When this happens we may operate a short deuce system to ensure regular and speedy court rotation. We aim to give each player a minimum of 3 sets at each session (subject to the time of arrival).
Due to this high demand, we have had to put a cap on the number of players attending each session. It is therefore necessary for players to pre-register their interest in playing, on the day of each session by texting 'yes' followed by your name to our social coordinator on 0418 181 203. The cut-off time for registering is one hour prior to start time. A 'thumbs up' response will indicate there is a spot available for you. Please do not just show up or you may be disappointed.
Cost – $15 per player per visit.
The accepted method of payment is EFTPOS (credit and debit cards). Please note we do not accept cash.
All information is listed on this website – please read it carefully.
Your social tennis coordinator is Lisa ph: 0418 181 203. SMS only please. Lisa will respond when she is available. We ask that you are respectful with the time of day you contact Lisa, who is a volunteer and not always available.
In the case of wet weather, please check the HDTA website home page which will be updated with the court status and playability.
HDTA social club membership is included in your fee, however all new players MUST complete a New Player Registration form. When you express interest in joining, a link to this form will be sent to you via SMS and you will be required to complete it prior to playing.